Caesars Chicken
Establishment, food and meal takeaway at 435 Princes Highway, Corrimal, NSW 2518, Australia. Here you will find detailed information about Caesars Chicken: address, phone, fax, opening hours, customer reviews, photos, directions and more.
Opening hours
| | |
| --- | --- |
| Sunday | 09:00am — 08:00pm |
| Monday | 09:00am — 08:00pm |
| Tuesday | 09:00am — 08:00pm |
| Wednesday | 09:00am — 08:00pm |
| Thursday | 09:00am — 08:00pm |
| Friday | 09:00am — 08:00pm |
| Saturday | 09:00am — 08:00pm |
Photos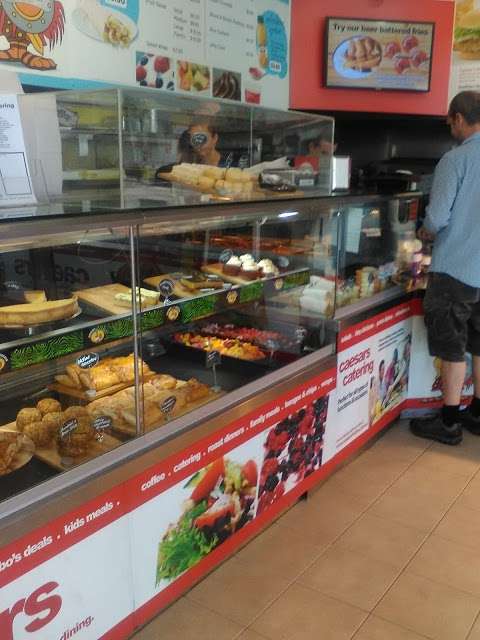 Reviews of Caesars Chicken
JellyBeans Added February 25, 2023

★ ☆ ☆ ☆ ☆

Burgers are actually massive and soooo good but some rude manager told me I had to move my motorbike and didn't explain why. I will not stand for such discrimination. I was parked in a normal spot that had no signs or anything saying no parking. But brooo the food goes so hard

Chris Read Added February 19, 2023

★ ★ ★ ☆ ☆

A mixed bag really. Was working nearby and had to make a lunch stop. Ordered the calamari and chips combo which seemed extraordinary value. Should have been a bit more critical in choice though as many options available on the menu. Would not select this again. Although hungry couldn't eat the calamari as they were processed something, not anything like what you would expect. Underwhelming to say the least. Chips were fine.

Bec 9 Added February 16, 2023

★ ★ ☆ ☆ ☆

The just keep getting worse!
Ordered a small chips and roast beef with creamed potato.
Tasted a chip in the car, noticed it was cold, thought it was a one off, as the chip was dark (I didn't look at the rest). Got to the park around the corner and my daughter ate a chip, I tapped the container and there was about 8 scummy over cooked, bone cold (fridge temp) chips inside. Took out my beef pack and the container had disintegrated so I had a pile of slop!!
On the plus side the gravy was nice!
It's a reminder as to why I stopped going there in the first place. Last time the chip kid picked his teeth and continued to touch food without washing them. I knew better and yet I thought I'd give them a second chance.
Once a good place now just aweful!

If I can post a photo I will!

Sue Taylor Added February 12, 2023

★ ☆ ☆ ☆ ☆

Not sure if there is new management but ever since the renovations done in Aug22 the baked chicken is DRY, used to be succulent and the snitzel burgers smaller portions, and no flavour in the snitzel. Twice had the same experience. Used to go there all the time. Cutting back on quality to pay for renovations maybe but won't be back. We're done with them.

Yvette Brydon Added February 11, 2023

★ ★ ★ ★ ☆

Chips were awesome, we thought $11.95 for a family serve of chips was a bit rich but they really over fill the container and it fed 2 adults and 2 teenage boys easily. Will definitely be returning..
Questions & Answers
1. What is the phone number for Caesars Chicken
The phone number for Caesars Chicken is +61 2 4285 5885.
2. Where is Caesars Chicken located?
Caesars Chicken is located at 435 Princes Highway Corrimal, NSW 2518.
3. Is there a primary contact for Caesars Chicken
You can contact Caesars Chicken by phone using number +61 2 4285 5885.
4. What is the web address (URL) for Caesars Chicken
The website for Caesars Chicken is caesarschickens.com.au.
Share this page
Additional actions
Today's weather in Corrimal NSW
13:00
13 ℃ 1014 hPa 46 % 5 m/s 16:00
15 ℃ 1013 hPa 47 % 5 m/s 19:00
14 ℃ 1014 hPa 56 % 4 m/s 22:00
13 ℃ 1014 hPa 62 % 4 m/s
Tomorrow's weather in Corrimal NSW
01:00
13 ℃ 1014 hPa 68 % 5 m/s 04:00
13 ℃ 1014 hPa 62 % 5 m/s 07:00
12 ℃ 1015 hPa 68 % 4 m/s 10:00
16 ℃ 1016 hPa 57 % 6 m/s 13:00
17 ℃ 1015 hPa 48 % 7 m/s 16:00
16 ℃ 1015 hPa 52 % 7 m/s 19:00
14 ℃ 1018 hPa 57 % 8 m/s 22:00
14 ℃ 1019 hPa 57 % 8 m/s